Ottawa Band of Brothers
re-BOOT • Rest & Renewal Weekend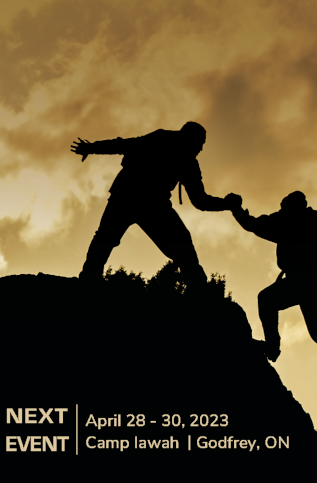 Hey Band of Brothers Boot Camp Alumni,
Are you ready for a Boot Camp re-BOOT?
We are inviting you, our Boot Camp Alumni, to take a break from the demands of life and join us for a weekend away.
In Mark 6:31, Jesus invites us to go with him to "go off by ourselves to a quiet place and rest awhile." This weekend, we want to answer that call and provide you with an opportunity to be renewed in your faith, reignited in your mission, and readied to serve.
You can experience challenging teaching, multiple option breakout rooms, real fellowship, engaging testimonies, and quiet personal times with God in His creation. This will be a different experience from our usual Boot Camp, designed to help you find rest and rejuvenation.
Join us for a weekend of renewal, refreshment, and growth in your faith. Lots of good food with a Saturday night Prime Rib Dinner. We can't wait to see you there!
Friday, April 28th at 5:00 pm to Sunday, April 30th at noon
Camp Iawah
Godfrey Ontario
   Map
$240 + Eventbrite Fees